A step-by-step, 12-week online group coaching program for a leaner, stronger, and more confident you
Learn How to Lift Weights for Results as a Petite
Have you ever felt like it's somehow harder for you as a petite female to really change your body? Whether your goal is to lose fat around your stomach area, or to gain lean muscle, or both—you're not wrong about it being more difficult for us petites.
As shorter women, our metabolisms run a little bit slower than the metabolisms of taller women (and men)!
The Petite Power Program was designed with you and your body type in mind. You could think of it as a "custom-fit" rather than "one size fits all" kind of program.
If you're feeling stuck in your fitness journey and craving an immersive program, coach and community that understand YOU and your needs as a petite woman, then this program is for you.
Meet Your Coach—a Fellow Petite
Certified personal trainer, nutrition coach and expert in petite fitness, April Whitney transformed her 5'1" body through a unique pattern of fitness programming, which she teaches you step-by-step in The Petite Power Program.
As a coach, April's teaching style is "real," "insanely helpful," "supportive," and "always available," in the words of her clients.
"Working with April changed everything! Her approach is totally science-based, and she explains WHY we did every single move. I honestly cannot say enough good things about her—she was motivating, empowering, knowledgeable, and just fun!"
— Maggie
Big Results from Small (& Strong) Women
"I had never realized that the reason I loathed the gym so much was partially because the equipment isn't designed for my body. Then, I found Smalletics. At 5'2", I find that the machines are extremely hard to use and often times don't facilitate the results I want.
Instead of my monotonous routine of elliptical and sit-ups, I was challenged with a fun and inspiring workout daily. There wasn't a single exercise that left me feeling bored, and the constant progression of the program challenged me in new ways up until the very end. The program itself was extremely comprehensive, and I walked away with a ton of knowledge not only about fitness, but about fitness for the petite frame. Progress pics and push-up tests served as constant motivation to show up and sweat. Within the first four weeks, I not only looked better, but I found myself thinking more clearly and greeting each morning with a spurt of energy and enthusiasm. Because the program is designed specifically for my body type, the results are staggering at a far faster pace. Even though my three months have concluded, my fitness journey has only just begun. I don't know who this gym-rat is when I look in the mirror, but I do know that I like her."
"I'm so excited to see my transformation! It has been challenge with a busy work schedule and limited time, but I'm learned to make time for myself and focus on creating a better vision of me . Plus, I have more energy and confidence that I somehow lost over the past several years.
Overall, I've lost 2 inches in my waist and have more defined arms and thighs. I'm up to 35 push-ups in 1 minute (and some of them are not on my knees!).
I know the program is done, but I plan to start another round of the program this week! Seeing what I can accomplish after the first round makes me wants to see what 24 weeks would look like."
"This is my progress shot after just 5 weeks! I genuinely remember how icky I felt when I took the before photo, but I knew I would benefit having these photos in the long run. I mean - I would have never noticed the shoulder progress! And look how high my belly button is now! And my butt is so full! I love it.
I, for the life of me, never thought some workout plan would EVER give me so much confidence in the gym and just in general! I am SO happy that I found you!!
Oh and when I flex!! I actually have ab lines. Something so silly, but it's not the most awful thing ever :).
And with regards to how I'm feeling—SO RELAXED. I feel so empowered now. I feel strong. I feel healthy and WHOLE."
What's Unique About The Petite Power Program
Workouts Tailored to Your Metabolism
Many generic training programs prescribe machines that do not fit the petite body size or body mechanics, which can decrease the efficacy of a program or increase the chance of injury. In The Petite Power Program, April teaches dumbbell training as the primary strength training modality, making it accessible, safe and optimized for you.
Equipment Modalities That Fit
Because height and metabolism are correlated, petites have slower metabolisms. The Petite Power Program is designed to speed up the petite metabolism through progressive strength training and specific cardiorespiratory guidelines to promote a healthy, fast metabolism that burns more calories.
Best Exercises for Petites
Having a strong internal core is the key to a strong and healthy back and proper posture. The Petite Power Program utilizes specific exercises to enhance and celebrate the petite body.
The Petite Power Program celebrates the international petite community by bringing the short girl gang together through a private Facebook support group. In addition, you will have access to a private membership containing all of your course materials, training modules and resources. You have lifetime access to both of these.
Group Coaching and Daily Support
Through monthly mastermind group coaching calls, video form checks and the Facebook community, April makes sure that you are fully supported throughout your entire 12-week journey.
Because April is here to support you on your health journey, this program is backed by a 100% 30-day money-back satisfaction guarantee. If you can provide evidence of full participation both in the workouts and the support group for the first 30 days, you will receive a swift and complete refund, no questions asked. As your coach, April wants to see you succeed, so you can also ask her about payment plan options.
Inside The Petite Power Program
The Petite Power Program is an immersive online program that will take you from not knowing what to do in the gym to becoming confident, leaner and empowered in how (and why) to strength train as a petite woman.
NOTE: This is a 12-week online group coaching program available worldwide.
The program includes:
12 weeks worth of workouts (exact exercises to do each day) that are tailored to the petite body type and petite metabolism

Nutrition For Petites, a 50+ page e-book including recipes, how to track your macros or eat intuitively, and more. This book has been reviewed and approved by a registered dietician & nutritionist. Vegan options included.

A private membership area with weekly videos, resources and challenges

Access to a video library demonstrating all of the exercises from multiple angles

Cardio guidelines and options based on your specific goals

A complete breakdown of how and why to train as a petite woman for results

MONTHLY mastermind group coaching calls with April and the short girl gang—where the magic happens! You'll get 1-1 support and answers to all of your questions

LIFETIME access to all of the workouts, online course, resources, materials and FB group

Access to a private Facebook group for ongoing support which will include:

Live streams and trainings

Ongoing support from April

Additional tips and tricks

Form checks

Group chat

Answers to your questions and more
You have lifetime access to all course materials and resources.
A Little Bit From the Community
"Not only do I feel stronger, improved my sleep, and reduced my stress levels, but my confidence has dramatically increased. I feel ready now more than ever to make big life decisions and stick to it."
— Julie
FAQ
How do you define petite/short?
In apparel, petite can be defined as anyone who is 5'4" and shorter. You can be any shape or weight and still be petite. Smalletics is an inclusive community, so if you identify as petite, then you are petite in my book.
How long do the workouts take?
Once you get the hang of the warm up and cool down routines, the average workout should take you about 45 minutes.
What if I've never lifted weights before?
This program is meant for beginner through intermediate levels—so whether you've never lifted before, or you have a few years of experience, you'll be able to progress. The program is progressive, so the workouts increase in difficulty over time. It's easy to follow with step-by-step instructions and videos for every exercise, and along with April's support, you'll be sure to stay on track.
Can I do the program at home?
The Petite Power Program can be done at the gym, or at home. If you choose to follow the guide from home, you can do so will a small investment in the following equipment:
Dumbbells

Stability ball

Medicine ball

Resistance band

Jump rope
How long is the program and when does it start?
Petite PWR is a 90 day program. Sign up for the Waitlist to be notified about the next session and enrollment details.
Sign Up To Learn More
Signing up will keep you in the know about future enrollment dates, discounts, free trainings and more from April.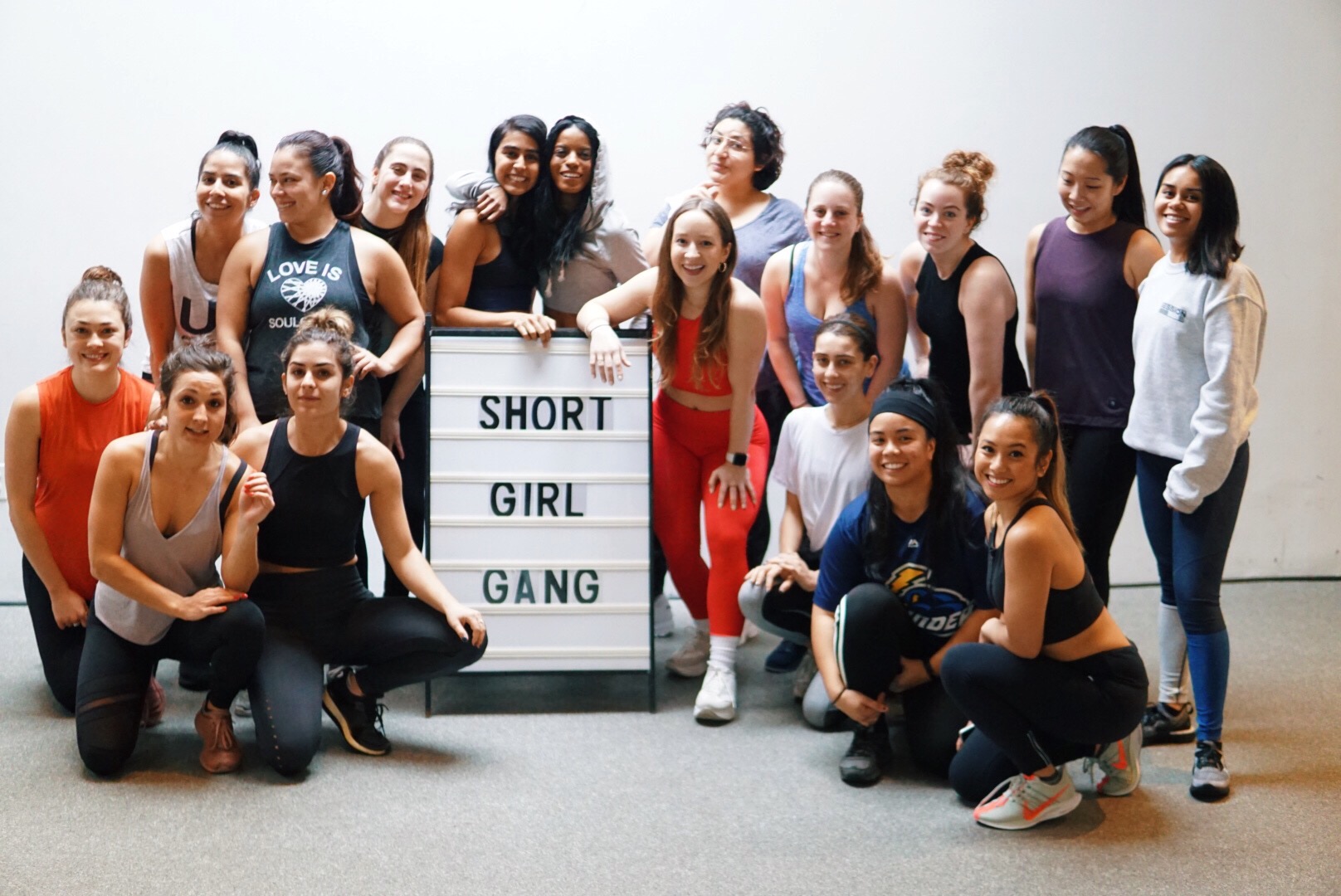 Join the Free Facebook Community Group
Jump in the group to receive free live trainings and tips and meet other members of the international #shortgirlgang community.